いきなり英語のサイトって感じですが(笑)
やたらと景気のよさげな「ALiLA」のご予定を載せておきます。
◆Alila Phuket. Thailand Opening 2007◆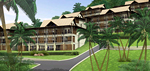 Located at the heart of Phuket's exclusive "Millionaire's Mile", Alila Phuket offers luxury and cool sophistication. Set into the hillside above Kamala Bay, overlooking the Andaman Sea, it offers a discovery of unique experiences that relax and rejuvenate, such as the immense sand and sea salt water pool that recreates a private beach. The range of guest suites are also designed to deliver personalised spa, pool and outdoor experiences in complete privacy. Alila Phuket is a lifestyle destination, where the best of spa, wellness, relaxation, sophisticated living and interactive dining combine to create a truly memorable experience.
64 rooms / 42 spa suites / 54 corner suites / 42 pool suites / arrival pavilion / Cocoon interactive restaurant / bar lounge / hillside terrace restaurant / wedding pavilion / meeting facilities / library / Spa Alila
◆Alila Cha-Am. Thailand Opening 2007◆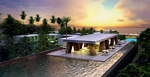 Designed by one of Thailand's leading architects, Duangrit Bunnag, Alila Cha Am is a tropical getaway that defies convention. Set in the charming coastal town of Cha Am, on the north west coast of the Gulf of Thailand, this luxurious beachside resort is designed to be a sophisticated and contemporary lifestyle destination. From the grand entrance stairway to the rooftop reflecting pool, every detail is understated yet unforgettable. Suites and pool villas are conceived as personal retreats ? spacious, elegant and fully connected. Privacy is paramount, with intimate hideaways nestled amid sprawling lawns and azure pools.
72 rooms and 7 pool villas / Motion restaurant / Clouds Loft / Chill Pool and Red Bar / Spa Alila / active pool and beach cabanas / library / events centre
◆Alila Villas Hadahaa. Maldives Opening early 2008◆
Alila Villas Hadahaa is set on a tropical island in the North Huvadhu Atoll. This island resort is about the ultimate Maldivian experience of turquoise and azure waters and fine white beaches, complemented by tranquil settings. The resort's 50 beach and water villas, some with private pool, reflect the unique Maldivian sense of space. Here, no boundaries exist between you and the ocean. Panoramic views stretch to infinity. Succumb to the healing sensation of holistic wellness at Alila Villas Hadahaa, where every experience is centred on bringing mind, body and soul towards a new equilibrium.
26 beach villas / 10 beach villas with private pool / 14 water villas / restaurant / Maldivian speciality restaurant / cocktail bar / Spa Alila with outdoor salt-water flotation pool / fitness centre / diving centre / library / leisure concierge service / unique sea excursions
◆Alila Villas Lonudhua. Maldives Opening early 2008◆
Alila Villas Lonudhua lies on Lonudhuahutta Island, a pearl drop in a sea of blue fringed by white sands. 50 luxuriously spacious beach and water villas, many with private pool, are set amid pristine surroundings in this unspoilt location. Stylish, contemporary architecture is integrated with traditional Maldivian-inspired details, individuality is fused with ultra luxury, creating an environment that stimulates all your senses.The resort's most distinctive feature is an oceanographic centre, providing an extraordinary opportunity to enjoy and engage in the beauty of marine life.
20 beach villas with pool / 16 water villas with pool / 14 water villas without pool / main restaurant and bar / diving and oceanographic centre / Spa Alila on water / fitness centre / aqua restaurant and bar / Alila Culinary School / library / leisure concierge service / unique sea excursions
◆Alila Villas Uluwatu. Bali Opening late 2008◆
At its spectacular location along the southernmost coast of Bali, Alila Villas Uluwatu offers a rare and unparalleled lifestyle experience. Perched on limestone cliffs one hundred metres above the Indian Ocean, the view is nothing less than picture-perfect - aquamarine ocean vistas and glorious golden sunsets. Here you will find contemporary design seamlessly integrated with the magic of Bali's cultural richness, continuing the Alila tradition of a total destination experience that is serene…sensual…and surprisingly different. Alila Villas Uluwatu also presents the unique opportunity to purchase a hillside villa, and fulfil the dream of owning a home in one of the most beautiful pieces of paradise imaginable.
41 hotel villas with pool / 25 three-bedroom residential villas with pool / 5 cliffside villas with pool / Spa Alila / clifftop restaurant and bar / alfresco restaurant / 50-metre pool / meeting facilities for executive retreats / wedding lawn / fitness centre / library / leisure concierge service
◆Alila Bangkok. Thailand Opening early 2009◆
Alila Bangkok combines a world-class, luxury boutique hotel and serviced residences, located in the heart of Bangkok. Towering above the bustling city streets, with panoramic views of Lumpini Park and the Royal Bangkok Sports Club, it offers an unprecedented level of urban sophistication through its new-age lifestyle concepts. Guests will enjoy an environment dedicated to stylish living, working and playing, with luxurious living spaces, themed dining and entertainment, rooftop entertainment garden, wellness club and a high-tech Business Loft. Setting new benchmarks for facilities and service standards, Alila Bangkok is destined to become one of the premier meeting places for business and leisure in the city.
32 suites / 16 sky garden suites / 12 club suites / 2 duplex suites / The Business Loft / rooftop entertainment garden / concept bar / Wellness Lounge / Wellness Club comprising urban spa and gymnasium / Alila Living boutique / library
◆Alila Villas Musandam. Oman Opening early 2009◆
Located on the Musandam Peninsula in the northernmost part of Oman at the entrance to the Persian Gulf, Alila Villas Musandam combines a top tier boutique hotel, destination spa and residential estate with private villas. An oasis set against a stunning backdrop of mountains rising from the desert plains, its contemporary locally-inspired architecture beautifully blends traditional elements of Omani lifestyle with the ultimate in luxurious comfort. From the intimacy of private courtyards and gardens of paradise, to the Arabian spa and spacious grand residences, Alila Villas Musandam will create an unparalleled lifestyle in one of the most extraordinary of settings.
。。。ふ~ん